Today (July 2nd 2022) the Internationale Socialisten Groningen, Decolonize Groningen, Groningen Feminist Network GFN and Bij1 Groningen organised a benefit demonstration for AZC Ter Apel. I helped out with the sound and made a video of all the speeches.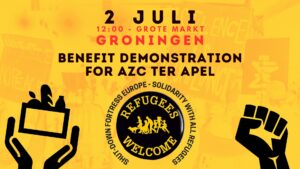 On the official event it states: "The situation in the refugee center in Ter Apel has become unbearable. People are without food or drinks, have to sleep on chairs outside, there is a lack of diapers, and traumatized children are being neglected – the harrowing list goes on. We immediately demand good and accessible reception for all refugees. They should sleep decently and safely. It is unacceptable that on one of the hottest days of the year, they are unable to eat or drink. We demand that all refugees in the Netherlands must be received in a dignified and humane way!
On July 2nd, 12:00 at the Grote Markt, we invite everyone to the benefit demonstration to support the refugees in Ter Apel. Together, we will collect hard-needed money and supplies for the refugees (a list with needed supplies will be posted), so we can provide some necessities to them. Immediate help is needed for the refugees in Ter Apel, so bring everything you can (we will update you with a list of the supplies that are needed)!
However, one benefit demonstration clearly will not suffice to solve the problem. Beyond demanding change, we want to fight for it. We will stand together to hold our government responsible for their failure. Together, we will form a fist against a government policy that keeps building and breaking down reception facilities, perpetuates capacity problems, and keeps pointing the fingers at others.
The idea of ​​one central reception location is unsustainable. It creates a climate of refugee hatred that causes municipalities to refuse the reception of refugees. It is a neoliberal climate in which nazi-scum such as PEGIDA are legally allowed by the municipality to "protest" at the refugee centre and shout their fascist omvolking conspiracies towards the refugees. This climate divides people who should fight together for social and economic justice. To fight this, we urgently need to build a lasting solidarity movement for-, but also together with refugees.
Earlier this year, we saw the warm welcome for Ukrainian refugees, which is very important. However, we must make every effort to show solidarity with ALL refugees. The left should not go along with double standards. It is a travesty that non-European refugees have to spend the night at the Ter Apel refugee center on chairs outside. Many hotels in the south of the country rent out a quarter of the rooms to Ukrainian refugees, not least because the government is willing to help them. Support like this should be extended to other refugees.
All this mismanagement stands in a time of violent push-backs at the EU borders because the territorial sovereignty of states and the EU is valued higher than peoples' life. While fighting for tangible change now, this also makes it clear to us that the larger issues and structures of exploitation which force people to leave their homes will not be adressed by our government. Because of that, we stand in solidarity with all who are fighting for system change in a global scale: down with capitalism, imperialism, racism, and xenophobia! For a future of solidarity! "
You can watch the speeches of today in the video underneath this blog.
Obed
02-07-2022