this blog is in English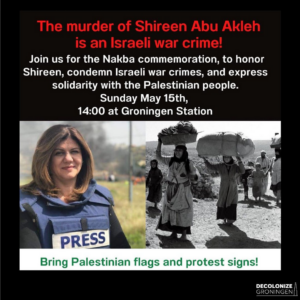 Last sunday Decolonize Groningen organised a manifestation at the Station of Groningen. It was organised for the Nakba commemoration, to honour Shireen Abu Akleh (who was killed by the Israeli Army), to condemn Israeli war crimes and to express solidarity with the Palestinian people. Unfortunally the international community still refuses to codemn the crimes commited by the IDF and the Israeli government.
People brought Palestinian flags and protest signs. There was a speech, a bit of chanting and flyers were handed out.
I went to the demo to show my support, make a few pictures and capture a bit of video.
You can view a bit of my footage here.
Obed
17-05-2022